Show/Hide Search Options
Clear Creek Organic Farms
About Clear Creek Organic Farms:
I have farmed for 30 years along the Cedar River. In 2006 we switched to organic production in order to produce healthier produce, meat and milk from our 80 cow dairy herd. We raise all our livestock on grass to increase the CLA's and the omega-3's available for health conscious people and their families. A study conducted by the human nutrition department at the University of Nebraska. In the study, grass fed meat compared with grain fed meat had
� lower crude fat content, 13.1% compared to 16.7%
� higher amounts of Omega-3's, in fact twelve times higher
� much more CLA's, 7.4 mg/g fat compared to non detectable amounts in grain-fed meat

General Practices:
We do organic production on all of our acres and livestock.
Product Types:
flavored cheddar based cheeses, vegetables, (A to Z) grass fed/finished beef, pastured, SOY-FREE pork, pastured poultry
More detailed information about this producer
Ordering is currently closed
7687

1
Pastured Whole Roaster Chicken-SOY FREE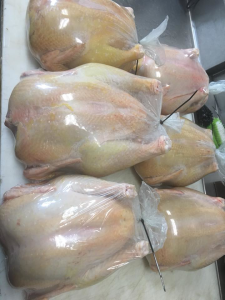 $4.10 / Pound
All Natural
frozen
These broilers are a little older (from a spring hatch) and will make a great holiday meal substitute if you don't need a larger turkey. They have been running free range, and fed non gmo grains(NO SOY for about 3 months).
Order number of roasters.
You will be billed for exact weight (between 6.00 and 10.00 Pounds)
Ordering is currently closed
$3.25 / pound
All Natural
frozen
These are roosters that were hatched last spring. Have been roaming freely....
Order number of packages.
You will be billed for exact weight (between 3.00 and 4.00 pounds)