Show/Hide Search Options
About Santa Martha Cafe:
The hardworking coffee farming community of eighty-nine households in Santa Martha de Loma Azul, Nicaragua is in need of your support. Santa Martha lacks clean drinking water, proper sanitation, ventilated cooking, and electricity. Most inhabitants currently walk an average of 1/2 mile on steep terrain to fill their buckets with contaminated water. Help us to raise the funds needed to bring clean drinking water, sanitation and education to Santa Martha by buying Santa Martha Cafe Products.
General Practices:
Coffee is roasted in downtown Omaha, NE
Highlights:
Going to Nicaragua March 31 - April 7th 2016 to source beans from this growing season.
Ingredients:
Green coffee beans from Nicaragua.
Product Types:
Whole Bean Coffee, Ground Coffee
More detailed information about this producer
Ordering is currently closed
7191

5
Cardamom Pods 4 Ounces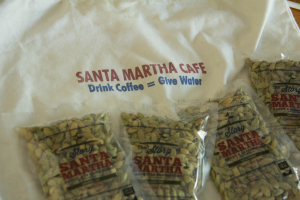 $6.50 per 4 Ounce
All Natural
non-refrigerated
Cardamom, sometimes Cardamon or Cardamum, is a spice made from the seeds of several plants in the genera Elettaria and Amomum in the family Zingiberaceae. Both genera are native to India, Bangladesh, Bhutan, Indonesia, Nepal, and Pakistan. Now grown in Nicaragua.
Cardamom Honey Chicken Recipe
Ingredients
Marinade
4 Tbsp honey
2 Tbsp sherry
1 teaspoon cardamom seeds, ground
1 teaspoon peppercorns, ground
Chicken
6 chicken breasts
2 Tbsp Olive oil
1 lemon, thinly sliced
Salt and pepper
1 Preheat oven to 390°F. Warm the honey, stir in the sherry, cardamom & peppercorns. Add chicken, marinate for 30 minutes.
2 Sear the chicken in olive oil using a large frying pan at medium high heat.
3 Place lemon slices in a roasting pan. Lay the chicken pieces on top. Brush with the marinade. Salt & pepper. Bake approximately 15 minutes or until done. Let rest for 10 minutes before serving.