Show/Hide Search Options
About Santa Martha Cafe:
The hardworking coffee farming community of eighty-nine households in Santa Martha de Loma Azul, Nicaragua is in need of your support. Santa Martha lacks clean drinking water, proper sanitation, ventilated cooking, and electricity. Most inhabitants currently walk an average of 1/2 mile on steep terrain to fill their buckets with contaminated water. Help us to raise the funds needed to bring clean drinking water, sanitation and education to Santa Martha by buying Santa Martha Cafe Products.
General Practices:
Coffee is roasted in downtown Omaha, NE
Highlights:
Going to Nicaragua March 31 - April 7th 2016 to source beans from this growing season.
Ingredients:
Green coffee beans from Nicaragua.
Product Types:
Whole Bean Coffee, Ground Coffee
More detailed information about this producer
Nuts, Seeds & Beans
Seeds
Ordering is currently closed
7190

5
Chia Seed 5 Ounces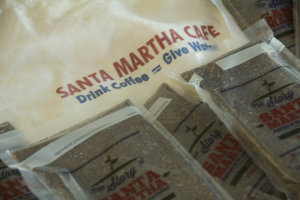 $3.90 per 5 Ounce
Production not specified
non-refrigerated
Salvia hispanica, commonly known as chia, is a species of flowering plant in the mint family, Lamiaceae, native to central and southern Mexico and Guatemala. Now grown in Nicaragua.
Healthy Gluten Free Chicken Nuggets
Ingredients
1 pound skinless, chicken bite size pieces
¾ cup ground flax seed
¼ cup chia seeds
¼ freshly grated Parmesan cheese
1 teaspoon salt
1 teaspoon oregano
½ teaspoon basil
½ teaspoon garlic powder
2 eggs
Preheat oven to 400 degrees. Lightly grease a baking sheet.
Mix dry ingredients in medium bowl.
In separate medium bowl, beat eggs.
Dredge chicken in egg then dry ingredients place on baking sheet.
Discard any remaining egg or flax mixtures.
Cook chicken for 25 minutes or until done, turn over once halfway through. Serve immediately.