Show/Hide Search Options
About Italian Fusion:
I developed my own brand of Italian Dressing/Dry Seasoning for my own family but when friends tried it, they went crazy over it. We have found and are still finding many uses for both the dressing and the dry seasoning. The dressing/marinade can be used for salads, sandwiches, meat marinade and for dipping. The dry seasoning makes a fantastic dry rub for meat, fish or veggies. You can add it to soups, sauces, casseroles or add to sour cream for a dip.
General Practices:
Our products are certified gluten free, all natural and there is no sugar in them. We use non GMO oil and non irradiated spices
Ingredients:
Liquid- Non-GMO soy oil, Extra Virgin Olive oil, red wine vinegar, water, garlic, onion, herbs, spices, xanthan

Dry Seasoning- Salt, pepper, onion, garlic, herbs and spices
Product Types:
Italian dressing/marinade/sandwich sauce Italian dry seasoning/rub
More detailed information about this producer
Condiments, Sauces, Spices
Salad Dressing
Ordering is currently closed
6073

7
ITALIAN FUSION *DRESSING/MARINADE/SANDWICH & DIPPING SAUCE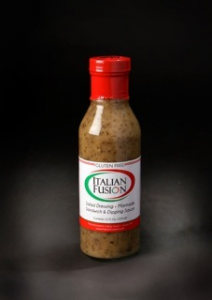 $4.88 / BOTTLE
All Natural
non-refrigerated
A VERY AUTHENTIC ITALIAN DRESSING/MARINADE/SANDWICH & DIPPING SAUCE THAT CAN BE USED ON SALADS, SANDWICHES, PASTA, MEATS AND SEAFOOD. *CERTIFIED GLUTEN FREE* SUGAR FREE *ALL NATURAL * NO MSG* MADE WITH NON GMO OIL AND NON IRRADIATED SPICES
12 OZ BOTTLE *FOR RECIPES GO TO WWW.ITALIANFUSION.COM