Show/Hide Search Options
About Branched Oak Farm LLC:
Katie Justman has been making cheese at Branched Oak Farm since 2013. She exclusively uses milk produced on the farm by grassfed Jersey Cows. At Branched Oak, we work together to create a sustainable and healthy food system by repurposing as many byproducts as possible. Our milk and cheeses change from creamy white in the winter to butter yellow in the spring because dairy changes seasonally, just like produce.
General Practices:
Grass-based, sustainable. Cheese is made in small batches by hand. Animal Welfare Approved
Product Types:
Artisan, farmstead cheeses, made from grassfed Jersey cow milk. Cheese varieties: quark, gouda, mozzarella, monterey jack
More detailed information about this producer
Ordering is currently closed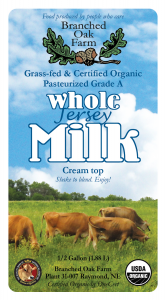 $5.20 per 1/2 gallon
All Natural
refrigerated
Cream-top milk from our herd of beautiful Jersey cows. "Certified Organic" guarantees: cows are pastured except when weather prohibits it, they eat only certified organic forages and mineral, our commitment to producing the most delicious, safest food you can buy.
Cream-top means the milk is non-homogenized so there will be a cream layer at the top. This can be poured off for butter making, coffee drinks, cooking, or shaken back in.
Order number of 1/2 Gallon jugs.